Do You Have To Spray Chemicals Inside My Home?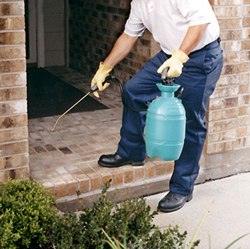 Insects are determined to find a way to penetrate your home. Hitman's pest management efforts outside of the structure reduce the amount of materials needed in the living areas of your home.
Small amounts of low-odor materials are placed in cracks and crevices where bugs tend to hide. We understand your needs. You don't want insects in your home, and you want to minimize the use of chemicals in your environment. Hitman's Two Step Protection Plan is the solution!
We place the appropriate materials in the right place, thus achieving the desired result. Your Technician will virtually eliminate destructive, disease-carrying pests from your home. After your servicing, the technician provides you with a written report of his findings and what actions were taken to protect your home. If additional treatment is necessary during your service period, we will promptly render our service at no additional charge to you for covered pests.
Indoor Pest Control is the first and the last line of defense against pests and the problems they cause you. First, your Initial Pest Control service will begin with a thorough inspection of your home and its challanges. After the assessment of your situation, your technician will proceed with an extensive treatment of your home's interior beginning with a dusting of the attic and/or crawlspace with an approved low impact long lasting product along with application to cracks and crevices that pests use to hide. After the dusting, your technician will proceed to apply low odor chemicals to the interior perimeter of your home in a prescribed manner to eliminate the pests that are established.
Sometimes a specific pest problem will necessitate additional treatment methods such as baiting for Roaches or Ants. Usually that is all that is needed to provide you the pest free interior you and your home deserve. Your pest control can usually be maintained by your technician with our outside only service plan thus eliminating the sometimes frustrating schedulingof appointments that can occur when having to do the inside also.
Sometimes a problem will arise that will necessitate an inside treatment to bring the problem pests under control, this is included with your control plan at no extra cost. If in the case in-between your treatment services a problem arises for a covered pest, you are covered with FREE RECALLS for the covered pests. Call Hitman today for an estimate or fill in the convenient form on the right hand side of this page.
In addition to indoor pest control service, Hitman Pest Control also offers the following services throughout the San Antonio and South Texas Area