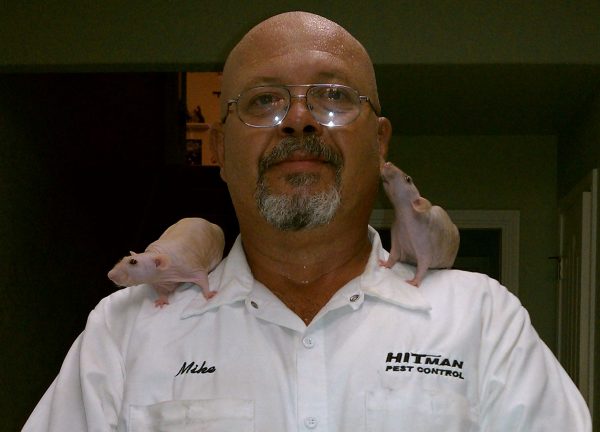 Hitman Pest Control is locally owned and operated in the Spring Branch and San Antonio Metro area.
The company's principle officers are; Michael Holt who has lived in Spring Branch for over 22 years and is in charge of the Comal County office, and Tom Powers who operates the Bexar County division. Having two offices allows the company to provide higher quality service to it's customers in a five county area.
These are just some of the services provided by Hitman Pest Control:
Full residential and commercial pest control services.
Post-construction termite solutions.
Pre-construction termite treatments.
Wood Destroying Insect Reports (WDIR), required for some real estate transactions.
Lawn and turf pest control.
Tree spraying and root injection.
Automatic mosquito misting systems, both sales and service.
Rodent and wildlife solutions.
Trapping and exclusions.
Bothersome bird solutions.
Our Mission
The mission of Hitman Pest Control is to provide top-quality interior and exterior residential and commercial pest control services. The company seeks to provide these services in the timeliest manner and with an ongoing comprehensive quality control program geared to achieve 100% customer satisfaction. The company's principal officers see each account as an agreement not between a business and its customers, but between partners that wish to create a close and mutually beneficial long-term relationship.
The pest control market is very competitive. The barriers to entry and exit in this market are very low making this an industry with a large number of rival firms with high turnover rates. Buyers have a significant amount of power since they have a large number of companies to choose from. Moreover, services can be undifferentiated, which means that customer loyalty is usually low. Pest control companies must compete on quality and timeliness of service, customer relations, and price.
Hitman Pest Control believes that it can improve on the quality and timeliness of services in this industry by instituting procedures that will avoid many of the mistakes that other firms make. This includes delayed schedules and high employee turnover which leads to lower service quality. The company will be equally competitive in price and will maintain close ties with its clients throughout the entire service since each service is a customized job. Through these steps, Hitman Pest Control will be able to build up a reputation of better quality service at competitive prices.