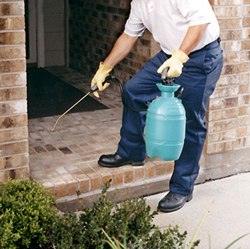 Q: How much do you charge for your extermination services?
A: Every service is unique and the remedies required vary with the problem in question. When you call, a trained PCO will ask you certain qualifying questions to try and determine the nature of your problem and determine what treatment is required, usually a phone quote is available for most general services. Some services require an on-site inspection before a bid is submitted. Our pricing structure is competitive with others in the industry.
Q: Is it safe for my children & pets?
A: Your risk of harm depends upon the degree of your exposure and your individual susceptibility. When applied by trained Pest Control Operators (PCOs), chemicals still should be avoided by limiting exposure to treated areas until directed by your PCO. Precautions should also be taken when aerosols, dusts, fumigants, or any other pesticides that may disperse into the air. Contact with surfaces that are wet after treatment should be avoided; allow ample drying time to minimize chemical transfer to non-target areas and non-target organisms. We do offer fully organic chemical-free alternatives in the place of regular pest control, however the same precautions still should be observed.
Q: What do I have to do to prepare my home for treatment?
A: Every service requires access to the areas in question and needs to be free from clutter or other objects that could hinder treatment application and success. If maid or housekeeping services are scheduled, complete your cleaning before scheduling your service to avoid compromising the results. Special preparations are required for some treatments such as fleas, fire ants, and others. Please ask for details.
Q: Do I have to be home at the time of my service?
A: No. Depending on your service record and the service plan that your home is under will determine whether we will have to gain access to the inside of your home. Usually after we have had a chance to eliminate the pests inside your home, we than will concentrate our efforts on areas outside the home that are problematic and areas of harborage. This way we can limit the amount of pesticides applied inside your home and still give you and your home the protection you want.
Q: How will I know when my service is due?
A: At the time of your initial appointment a service agreement documenting your specific service plan and frequency of service will be provided to you. When your next service is due, a representative of Hitman Pest Control, usually your PCO, will contact you to discuss your results and schedule your next appointment. If appointment has been confirmed with no prior re-scheduling by you, and the PCO arrives at your home and no adult is present, treatment will be performed on the outside of your home and service invoice will be left on premises. Payment will be expected with full warranty in effect.
Q: Do I have to sign a contract?
A: NO. We offer one-time services along with regular re-occurring service interval plans. We at Hitman are customers also and we know how uneasy and uncomfortable signing a service contract with a company can make you feel. We pride ourselves on keeping your patronage without the threat of legal action by being able to provide you the quality of service and results that you require. At the time of your first or initial treatment your PCO will prepare a written Service Agreement detailing the pests targeted, areas treated, type of treatment, frequency of treatments and warranty given along with special recommendations or instructions from you. This document has proven itself to be a valuable tool in keeping track of each customer's unique service requirements.
Q: What insects or pests are covered or guaranteed under my plan?
A: The vast majority of our residential customers utilize what we call our House & Perimeter Protection Plan. Due to the vast numbers of species of insects that exist, it is easier to inform you what insects/pests, which would not be covered under our proposal. Insects not covered are: Flying Insects, Wood Destroying Insects (carpenter ants, termites, powder post beetles, etc.), Seasonal Insects (crickets, katydids, locusts, grasshoppers, etc.), Fleas, Ticks, and Fire Ants outside the covered area and German Roaches. Other pests not covered are: Rodents, Birds, Snakes or other Animal pests. When we say that they are not covered, does not mean that we will not address them on our regular service trips, it just means they will not be warranted and subject to free recalls. Most customers have this same protection plan and are quite satisfied. Any additional coverage you desire is available.
Q: How long after my treatment before I will see results?
A: Sometimes after the Initial treatment is completed, a slight increase of insect activity possibly could be observed, depending upon what insects / pests population numbers are present. Nothing works completely overnight, not even professionally applied applications. If after two weeks, activity has not diminished, please feel free to call us back to address the problem at no extra charge.
Q: Do you have to spray chemicals inside my home or business?
A: NO. Depending upon your requirements and your specific pest control needs, we can achieve control utilizing IPM (Integrated Pest Management) techniques. What this entails is a combination of common-sense practices using comprehensive information on pests and knowledge of their life cycles and their interaction with your environment. IPM can be used both in agriculture and non-agriculture settings, such as the home, yard, garden, or workplace. IPM takes advantage of all appropriate pest control techniques including, but not limited to the judicious use of pesticides.
Q: What methods of payments do you accept?
A: We accept cash, personal checks with proper ID, or the following credit cards; Visa, Master Card, American Express, and Discover. Commercial accounts with signed service agreements on file are usually billed on a net 30-day basis after the service is performed. Signed Purchase Orders from governmental and public entities will be accepted as commitment of payment intent.