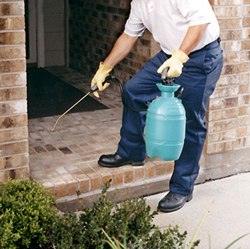 Residential Pest Control Services In San Antonio and Surrounding Counties
Keeping the Pests Out!
Wouldn't it be better to keep the pests out of your home in the first place? Of course it would! Just as your security system protects your family from intruders, Hitman Pest Control can protect your home from insects and rodents. We use many naturally occurring materials to discourage pests from entering your home. With your safety in mind, we then handle those that have already penetrated your environment. Our state-of-the-art methods are the best way to eliminate pests from your life.
Hitman Pest Control knows that pests don't just magically appear in your home. Rather, they systematically seek out entry points and invade your home to obtain food, water and shelter. Our Two Step Protection Plan fights the invasion with common sense techniques and materials geared toward sending those pests packing.
Exterior Treatment
Our Exterior Treatment focuses on the areas immediately outside the structure, including the base of the foundation, windows, doors, thresholds, soffits and eaves, plumbing and electrical egress points, vents, downspouts and the garage. By decreasing the bug population around the house, we minimize the number of pests that can invade your home.
We apply a band application of liquid, dust, granules, and baits to deter pests from penetrating the interior zone. We alert the home owner to cracks and crevices that need to be sealed to keep out the pests. We also inspect the property and seek out potential harborage areas. Mulch, wood, brick piles, trees and bushes should be moved as far from the structure as possible. Areas with high moisture conditions should be altered to prevent certain infestations.